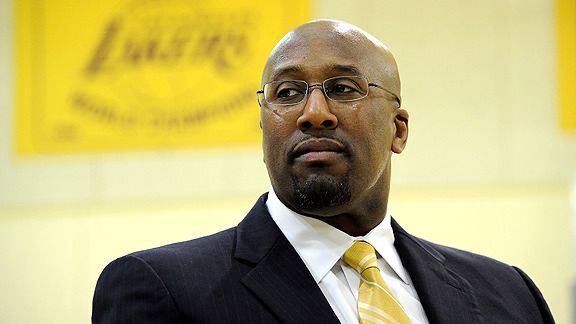 The NBA lockout enters Day 4 on the Fourth of July. No signings or trades are allowed until a new agreement between owners and players is reached. When it eventually does end, however long it may take, deals could heat up quickly. Here's who should get moving when the custodians of the game find the keys to the gym, turn on the lights and let the action start. Let's go 5-on-5:
1. Which team must make a major move this offseason?
Nate Drexler, Magic Basketball: Los Angeles. Mike Brown is in a precarious situation in L.A. as he hopes to provide Kobe with one or two more championships in the twilight of the five-time champ's career. The time is now to cash in on some wily veterans. The primary agenda for L.A. should be getting younger by moving Pau Gasol.
James Ham, Cowbell Kingdom: Without a doubt, the Lakers are the team who have to make a deal this offseason. The team that won back-to-back before last season's meltdown could try to make one more run with their current roster. But let's be honest, if Phil Jackson couldn't motivate this group, what can Mike Brown do?
Patrick Hayes, Piston Powered: With the second-highest payroll in the league, which couldn't even get it out of the first round, Orlando is the obvious choice. Even a deal that shuffles Orlando's bad contracts for the bad contracts on another team is worth exploring for Orlando, and the Magic can't afford to do nothing.
Devin Kharpertian, Nets Are Scorching: The Lakers and/or Celtics. The league is moving forward fast, with young teams, such as the Bulls, Heat and Thunder, ready to take over as top dogs. Both teams hung on to their core too long and got demolished in this year's playoffs. If they don't make changes soon, they could be in fifth-seed purgatory for the next three years.
Jeremy Schmidt, Bucksketball: Perhaps the move won't be as drastic as the moves they made last season, but the Heat have some serious work to do around their big three. The washed-up veteran route was filled with potholes by season's end. Miami must add young players who can improve around its stars.
2. Pick: Tyson Chandler, Marc Gasol, Nene Hilario, Yao Ming or Greg Oden.
Chandler
Nene
Nate Drexler, Magic Basketball: With all the hype around Gasol and Chandler, I'd still take Nene. He's a little under the radar after so many years of being overpaid, but assuming you're paying all these guys the same amount of money, Nene gives you the best numbers with a player efficiency rating of more than 20. Centers are at a premium, so even if you have to pay more for Nene, it's worth it given his numbers.
James Ham, Cowbell Kingdom: Chandler has a ring and Gasol is younger, but I would choose Nene. All of these guys are going to get paid, so money shouldn't be the end all. Nene is the best two-way player of the lot and a dominant offensive weapon. Oden and Yao just aren't worth the risk.
Patrick Hayes, Piston Powered: Chandler. He's not the best player in the group, but adding Chandler to a good team will be cheaper than Nene or Gasol, probably a shorter term commitment and his defensive impact will help any team he's on become better. His presence in Charlotte and Dallas made each of those teams among the league's best defensive units.
Devin Kharpertian, Nets Are Scorching: Tyson Chandler. His offensive game may be limited, but his phenomenal interior defense was one of the catalysts of Dallas' title run this year. Nene and Gasol are both terrific players and superior offensive threats, but the center position is a team's defensive anchor -- and outside of Dwight Howard, Chandler is the best in the business.
Jeremy Schmidt, Bucksketball: If you're looking for one player in this group that can be most reliable on both ends of the ball at a reasonable value, Gasol is the man. He has a combination of reliable offense and defense that his three peers can't offer.
3. Who's the best non-center available this summer?
West
Nate Drexler, Magic Basketball: Far and away it is Mr. Consistency, David West. He's everything you expect from a traditional power forward, except he also gives you a solid 20-foot jumper. From Chris Bosh to Zach Randolph, we saw these playoffs how difficult it is to stop teams with jump-shooting big men. West might be that "next step" guy in 2011-12.
James Ham, Cowbell Kingdom: Outside of the center position, this is an extremely weak free-agent crop. The aging group of small forwards -- Tayshaun Prince, Caron Butler and Andrei Kirilenko -- are all interesting. But at age 24, Wilson Chandler will match their production at a fraction of the cost.
Patrick Hayes, Piston Powered: David West is the obvious choice, but I'm going with restricted FA Thaddeus Young. He started only one game last season and gets lost in the shuffle a bit since Philly has Andre Iguodala and Evan Turner on the wings and Elton Brand at power forward. He's a high percentage shooter, solid rebounder, versatile defender and quietly just had his best season.
Devin Kharpertian, Nets Are Scorching: David West. That speaks more to the dearth of talent in this free agent class than it does to his value, but West is still a talented player who's put up 19-8 nightly for five seasons now. He won't be ready to go by the start of next season (assuming it starts on time), but he'll contribute to whichever team acquires him.
Jeremy Schmidt, Bucksketball: Sadly enough, the answer appears to be David West. The one-legged West looks to have three or four more productive seasons left in him -- which is three or four more than most players in this free-agent class have left in them.
4. Bargain hunting: Who's the best buy on the market?
Smith
Nate Drexler, Magic Basketball: I'd take J.R. Smith. He's young, explosive, versatile, and unlike other people with these traits, he is not out of control ... for the most part. Everybody needs quality minutes off the bench, but Smith can take over a game. In the right situation, I think Smith could be Jamal Crawford 2.0 (and at about 60 percent the cost). The question is, will he be satisfied in that role?
James Ham, Cowbell Kingdom: Call me a homer on this one, but the Kings' Marcus Thornton can flat out bring it. The 24-year-old former second-round pick averaged 21.9 points per game over the Kings' final 18 games, helping the 24-win team go 9-9 over that stretch. He made $762,000 last season and is due for a big raise.
Patrick Hayes, Piston Powered: Among veterans, it's Joel Przybilla. He's a physical rebounder who will be less expensive than the first-tier big men available. A younger guy? Jonas Jerebko. He missed last season with a torn Achilles tendon, but he hustles, rebounds, plays defense and hits the offensive glass. It would take a significant offer for Detroit not to match, but there's little doubt he would be a nice addition to any contender.
Devin Kharpertian, Nets Are Scorching: Troy Murphy -- if he returns to form. After suffering a back injury in training camp, Murphy played out of shape all year and turned in a disastrous 2010-11 campaign. Murphy will be lucky to get a veteran's minimum, despite averaging a double-double just two seasons ago. If he's 100 percent, any team that picks him up will get a steal.
Jeremy Schmidt, Bucksketball: Don't laugh: Anthony Carter. I know it's crazy, but Carter is a perfect late offseason addition for an established team with two solid young point guards (think Thunder). He never gets in trouble, gets rave reviews as a teammate and showed a spark in the playoffs last season.
5. Use the Trade Machine to make a deal that should happen.
Nate Drexler, Magic Basketball:
Orlando gets: LeBron James, Mike Miller
Miami gets: Dwight Howard, J.J. Redick
See the deal
I mean why not? Miami gets a "get out of jail free" card in dealing the guy who didn't show up in the playoffs and come away with the ultimate piece that will give D-Wade another few championships. Meanwhile, small-market Orlando gets major attention and starts packing the Amway Arena on the regular. Best part: People can finally start forgetting about how LeBron handled his decision.
James Ham, Cowbell Kingdom:
Orlando gets: Andrew Bynum, Lamar Odom, Steve Blake, Shannon Brown
Los Angeles Lakers get: Dwight Howard, Gilbert Arenas
See the deal
Dwight Howard is walking away after next season so the Magic might as well deal him for the next best thing, Andrew Bynum. There is no way the Magic swap Howard without tossing in Gilbert Arenas, who might be able to revitalize his career alongside Kobe Bryant. Looks like a win-win.
Patrick Hayes, Piston Powered:
Charlotte gets: Paul Millsap
Utah gets: D.J. Augustin, Matt Carroll
See the deal
The Jazz have a glut of big men. Paul Millsap is easily movable because his contract is reasonable. They save a bit of money over the next two years by swapping Milsap's contract for Matt Carroll's and get a chance to see if D.J. Augustin is a long-term answer at point guard while Charlotte gets a hard-working player in Milsap and clears playing time for Kemba Walker.
Devin Kharpertian, Nets Are Scorching:
San Antonio gets: Travis Outlaw
New Jersey gets: Richard Jefferson
See the deal
It's a minor deal, but most trades are; the Nets and Spurs should swap troubled small forwards Travis Outlaw and Richard Jefferson. Financially, Outlaw would help the Spurs get further under the luxury tax, while Jefferson's contract ends a year earlier. Both players are reviled by their respective fan bases, but a change of scenery and role could revive their careers.
Jeremy Schmidt, Bucksketball:
Atlanta gets: Monta Ellis
Golden State gets: Josh Smith
See the deal
The Hawks aren't going anywhere with Smith, likewise the Warriors with Ellis. Ellis may thrive next to an adept passing 2-guard like Joe Johnson, while Smith would give the Warriors another defensive-minded athlete. Both are flawed, but have the talent to at least give their respective new franchises' fan bases reasons to look up.
ESPN.com